30 October Open House Party at Pine Island Airport
PlanetPPG is throwing open the doors for a day of flying and fellowship. There will be PPG & ultralight aircraft flying and on display, product demonstrations, and a PPG hang simulator. Airplane sightseeing rides - $40 a head - by Tim's KingFisher Aerial . We will fire up the grill and eat hotdogs and hamburgers for lunch (or bring your personal choice with you to throw on the grill). Pilots and the curious are welcome to join us. We will fly during the day and have fun that night.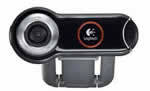 Unable to attend? Watch the festivities LIVE on the web cam:
Call Paul @ 239-297-7570 for more information.
5th Annual Christmas Fly-In at Pine Island Airport
27 December 2010 ~ 2 January 2011
End 2010 and start 2011 with one of the few things that make sense in our crazy mixed up world - FLYING!!!!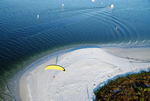 For 7 days you are free to fly; free to meet new and exciting people who enjoy life like you; free to explore the Lee Islands. This year we offer a boat service that is able to take you and your flying equipment out to the Cayo Costa for a fun day on the nearly deserted beach. Schedule your group trip now! Yes we will bring you back to Pine Island Airport at the end of the day! Schedules will be determined by advance booked requests.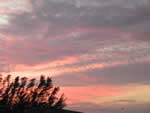 Campfire gatherings each night, food on site, and optional group activities for pilots and non-flying folks. Boating, art, beach, fishing - we have it available. That's the way we roll here on the island.
Call Paul @ 239-297-7570 for more information.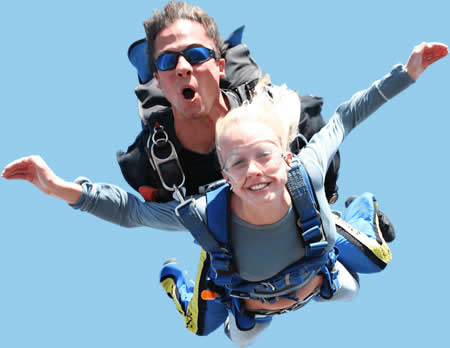 SkyDive FortMyers is offering jumps Pine Island Airport
Martin of SkyDive Fort Myers is offering Parachute jumps at Pine Island Airport. This is exciting and fun for those that desire a need for speed! Call Martin @ 239-244-3119 or visit: SkyDive Ft Myers
Frank G - 10 flights before returning to NY!
Frank worked hard while attending PlanetPPG and as a result was named "Branch Manager -NY". Frank is a GA pilot and got 10 PPG flights before he had to return to Long Island New York. He has received approval in writing from the FAA to fly under '700 in a very restricted airspace near the approach to JFK International Airport. Have fun and be careful Frank! (I want to see those pictures Frank!)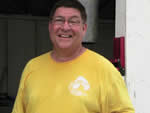 Rockwell Solos!
Rockwell was serious about learning to fly when he arrived at Pine Island Airport with his "Hard Rock" camper in tow. He wasn't going to leave until he could fly his FB Monster Bullet trike. Rockwell and his family live in Atlanta Georgia where Rock is a Manager at Verizon Wireless. Rockwell has been back a few times already to fly with his new friends at PlanetPPG. He is a true flying rock.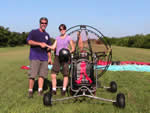 Mary Solos!
Mary is a medical sales manager that has recently received a prize and a promotion for all her hard work. The prize? A vacation at a Caribbean island of course! Mary has developed a smooth flying style that will serve her well. Congratulations Mary!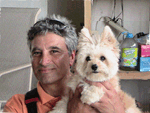 Pat Solos!
Meet Furbie. He is part of Pat & Marys family. Pat is working on his PPG2 rating while running a thriving internet business selling jet-ski parts. Golf and PPG fill his days off - when he gets them!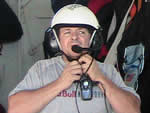 Hector is ready to fly!
Hector used to live in Argentina where he enjoyed 40+ free flying flights. He has progressed through the training quickly due to previous flight experience and is waiting for the next day off to fly again. Hector is a long-haul truck driver and lives with his family in Naples Florida.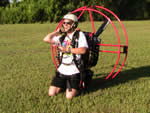 Sam Solos!
Sam is a fearless motorcycle racer that can tell a tale of high-siding at over 100 mph at Atlanta Motor Speedway. Way too fast for me! Do not worry Sam is like a bird when he is in the air.
Demo & display equipment:
Paramotors - Nirvana Rodeo 125, Fresh Breeze Simonini & Monster, Flat-Top, Top 80 iFlyer, RDM 100, Fly Products Gold, Walker Jet

Paragliders - Obsession 2, Sky Cima K2, Alpine Peak, Thrust HP, Karma, Sting PowerPlay, Power Atlas, Eden 4, Velvet
Trikes - Nirvana Cruise, TrikeBuggy Bullet, Black Hawk Lowboy, RDM100 trike
Cape Coral/ Ft Myers - go West on Colonial to Pine Island Rd, Left turn onto Pine Island Rd. Go through Matlacha to 4 way stop sign. Right turn (North) on Stringfellow Rd. Proceed North until the road curves left - Turn Right on Ficas Tree ("Plane Rides" sign should be visible) Pass Pine Island Growers (PIG) and find Airport on Left. Morning Star Lane
Tampa and North - I-75 to exit 161. Go Right on Jones Loop Rd. Stay on this road - cross 41 - road name changes to Burnt Store Road. Proceed South on Burnt Store Road until you reach Pine Island Road. Take Right onto Pine Island Road. Go through Matlacha to 4 way stop sign. Right turn (North) on Stringfellow Rd. Proceed North until the road curves left - Turn Right on Ficas Tree ("Plane Rides" sign should be visible) Pass Pine Island Growers (PIG) and find Airport on Left. Morning Star Lane