Edel Power Atlas
This is it the wing that has it all: good safety mixed with good turns mixed with good glide, and it's motor friendly. If you want an all around glider this is it.
Power Atlas has better sink rate than Control and is just as easy to launch and just as forgiving but is NOT a DHV 1. Just a standard class but totally suitable for the beginner.
Comes with short trim risers for a comfortable hand position. Safe and fun. An old friend with cool new features. 3 mph faster trim speed than original Atlas, thicker lines and great, very short, Trim Risers for extra speed, torque compensation and a comfortable hand position. Designed to inspire the beginning, intermediate or low airtime pilot. The Power Atlas has very good trim speed (37km/h max load) excellent handling and confidence inspiring handling. Very easy launching, fast rising glider. All internal stitching, reinforced attachment points, highest quality. Please compare it to other gliders edel spares nothing in production !
Risers, Lines, and Colors:
Colors available:
"Usually in stock call for more info" colors 1,2,3,7,8*,and 9* "90 day order time" colors 4,5,6 see color chart below to see what the glider would look like. Light colors will not fade as quickly as dark colors and dark colors adsorb more UV. The best thing to do is to keep your glider out of the sun when not in use so you get to use your full 300 hours of time flying and learning. "Try to pick a color different than what your buddies fly." Other than that pick what you like as the wing is what others see when you fly !
Both top and bottom surface full color on all Edel gliders- much more expensive to produce but it just looks so good ! More of Edel commitment to quality.
Silex
The Silex True Air Speed paraglider has been specially designed for paramotoring, and is ideal for regular training usage. The aim of construction was to design a powerful, fast and safe paraglider with easy handling. We are able to offer you a complete system licenced by the German Association of ultra light flyers (DULV) which fulfils all necessary standards of a modern paraglider.
Because of the emphasis placed on safety at Fresh Breeze, we have incorporated the following features into the Silex True Air Speed paraglider: Easy inflation and lift properties, Minimal tendency for "ground-hugging" during take-off, Near-zero level of negative turning or overturning and Self-stabilization of the canopy in cases of failure - even without the pilot's help. The Silex is a very efficient canopy: you can easily continue flying with the motor switched off, or you can interrupt your flight without any problems.
The paraglider also features a shortened harness system which makes "Big Ears" and B-stalling possible. The Silex can accommodate a maximum starting weight of up to 140kg. In addition to that trimmers can be used to increase speed considerably and to compensate for the torque of the motor.
The Silex is a special motor-paraglider, designed with safety in mind. The Silex inflates easily and quickly and does not hang back. A light pull on the risers will get the Glider overhead with little effort.
The Silex is very efficient and has a good glide ratio. The best features are high top end speed, light brake pressure, easy turning with high roll rate and high internal pressure to resist tucks.
The Silex is suited for intermediate and advanced pilots with reasonable air time under there belt.
Now manufactured form perseverance fabric, the highest quality available. With life expectancy approaching 600 hours!
The Silex is available up to a maximum of 308 lb take-off weight. The Silex is safety certified by DULV (German Ultralight Organization).
Includes unique combination backpack/stuffsack, inner bag, cinch strap, speed bar and trimmers, owners manual.
All with black and white checkerboard.
| | | | |
| --- | --- | --- | --- |
| Details | Small | Medium | Large |
| Recommended pilot weight (kg) | 60-85 | 80-105 | 90-115 |
| Take off weight (kg) | 70 - 120 | 90-140 | 90-150 |
| Number of cells: | All sizes: 48 | All sizes: 48 | All sizes: 48 |
| Wing Area real(m): | 24,6 | 27,9 | 29 |
| Wing Area projected (m): | 20,8 | 23,9 | 25,2 |
| Wing Span (m): | 10,8 | 11,6 | 12,1 |
| Projected Wing Span(m) | 9,0 | 9,8 | 10,1 |
| Apect Ratio: | 4,75 | 4,8 | 5 |
| Projected Aspect Ratio: | 3,9 | 3,95 | 4,05 |
| Canopy Weight (kg) | 5,8 | 6,2 | 6,4 |
| Average Linelengths(cm): | 670 | 710 | 730 |
| Speed Range( km/h) | 20-50 | 20-50 | 20-45 |
| Trim Speed: | 43 | 43 | 40 |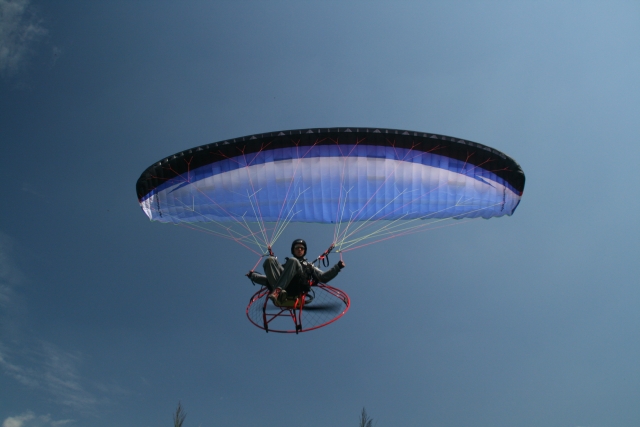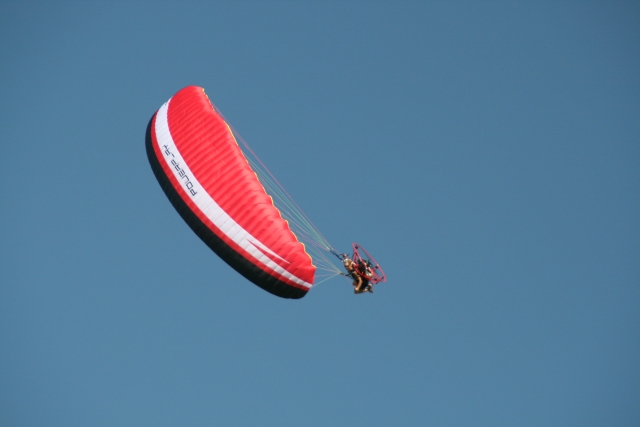 NAJA has successfully passed the DULV flight-tests in three sizes. Also the load test has been done up to 170 kg max. take-off weight at 8g. (that's 374 lbs) We really did all the maneuvers like full stall, one side collapse a.s.o. with the max. take-off weight and trimmers fully open. It took us a long time to finish the NAJA, but now we are proud to present the very first Motor-Glider certified according to the new DULV Advance standards
NAJA is the Latin generic term for cobra. And that's what the glider is: very fast and agile but easy to launch. Target group should be the advanced pilots as the NAJA requires more piloting skills than beginner wing's. Please note that the NAJA will not replace the STING or SILEX, but will be added to our POWERPLAY and FRESH BREEZE product range
Just to let you know up front, this brand new motor-glider does not have a reflex profile. The reason for this is that for the time being it is not possible to get an honest certification on gliders with such a profile due to it's reactions to extreme maneuvers. And by the way: you will see that it is possible to realize stability and speed with conventional profiles too ? but with more unoffending flying characteristics and much better launching behavior.

The three certified sizes cover a take-off weight range from 95-170 kg. The NAJA can be supplied with either the POWERPLAY standard back-pack or with the POWERPLAY stuff sack . Like the current SWING gliders, the NAJA is also made from the high-quality and durable fabrics Perseverance PN6 and Toray WT7.
Powerplay NAJA

21

23

25

DHV - take off weight (kg)

95-130

105-160

115-170

DULV - take – off weight (pounds)

209-286

231-352

253-374

Cells

48

48

48

Wing area proj. (m)

21

23

25

Wing span (m)

11.2

11.7

12.1

Wing span proj. (m)

25

27.2

29.5

Aspect ratio

5

5

5

Cruising speed (km/h)*

~ 58

~ 58

~58

Certification

DULV

DULV

DULV

*with open trimmer and ideal wing load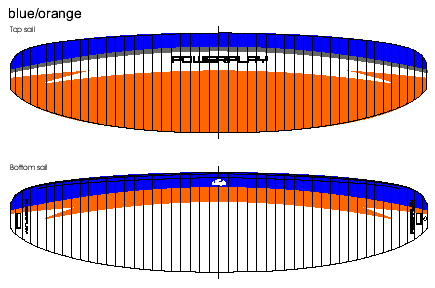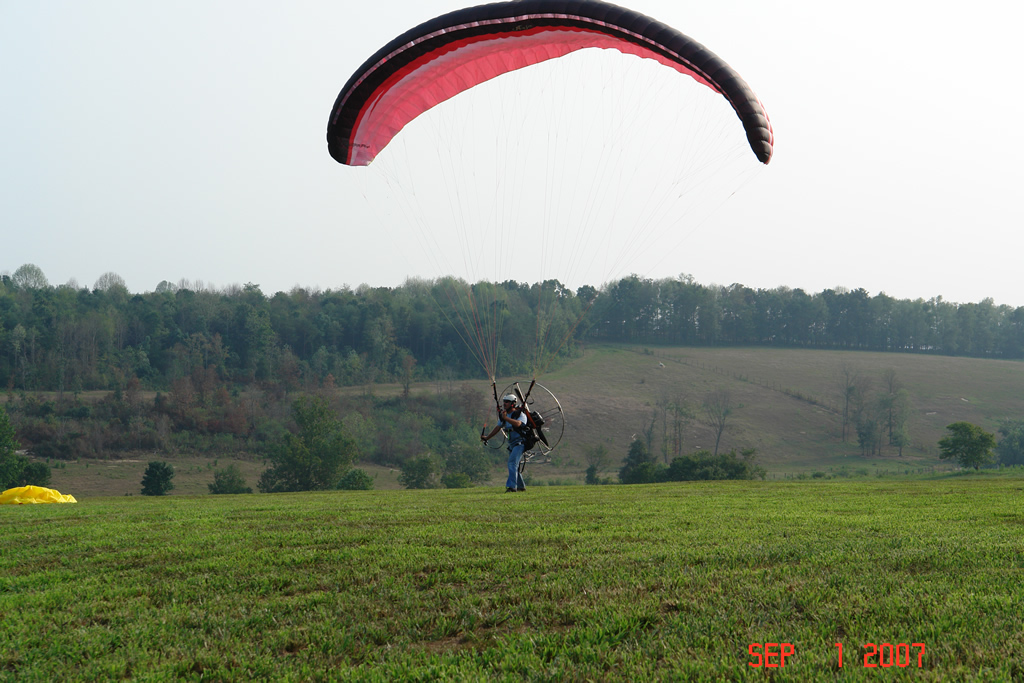 Spice
25